Love salsa? This is a winner especially if you like spice. I used a whole jalapeno with the seeds. I'm pretty loosey goosey with my measurements. So if you want to try the recipe, feel free to adjust the spice or the ingredients.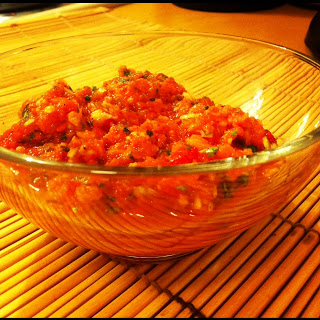 Ingredients: Two roma tomatoes, 1 carrot, 1 jalapeno, garlic, a handful of cilantro, 1 slice of cabbage, a splash of lime, a bit of taco spice and half a red pepper.
Because I didn't want huge chunks of garlic or jalapeno, I minced them in the Vitamix first. Then I added the rest of the ingredients. I used the tamper to push down the ingredients. I kept the variable on 2 for bigger chunks of salsa. Do not over process because it can turn into mush.
Enjoy!