I met a drifter recently who shared his not-so-secret strange brew with me. This "potion" or hot tea boasted turmeric, honey, lemon, ginger and mint. He seemed somewhat surprised that turmeric wasn't a staple in my diet. He rhymed off a laundry list of health benefits which included its healing powers, ability to lower cholesterol, improves digestion, detoxifies the liver and works magic on your skin.
My interest was immediately piqued because I love natural medicine. I took his word for gold but I still couldn't help but turn to Google for more answers. Besides I wasn't sure if I remembered his tea brewing instructions correctly.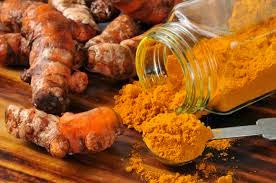 Turmeric is a spice that is grown in India and other spots in Asia. It is commonly used in curries and other Asian dishes. I was overwhelmed with the search results. Google said turmeric is a great anti-inflammatory, an antioxidant and great source of iron. There's a dozen different kinds of turmeric teas. I really liked the drifter's tea so I found a recipe similar to his and whipped it up.
My concoction on the left was not too bad. I didn't have mint so I overcompensated with lemon. Practice makes perfect in this case. The next time I used less lemon and it tasted great. I also found a few turmeric smoothie recipes. I used almond milk, chia, coconut oil, turmeric and Cinnamon. What a nice switch from my green smoothies! It was refreshing and sweet. Yum!
I think it's important to switch things up and simplify our diets. Now this is the time of year when everyone is thinking about making changes. Why not turn to turmeric? It's probably already in your pantry with the other spices. I encourage you whip up your own strange brew just for the health of it.